Rethinking Resurrection II
I tell you, Peter, before the rooster crows today, you will deny three times that you know me.
-
Luke 22:34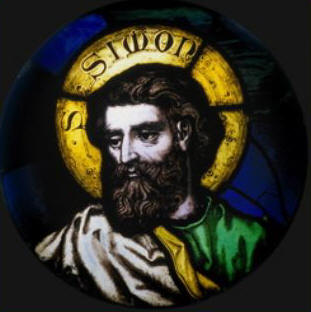 Peter was the fiery fisherman who followed Jesus with a passion. He wore his heart on his sleeves and often said things he later regretted. He was also known as Simon, son of Jonah. Remember that Christ's death, burial, and resurrection were often compared to the story of Jonah who endured three days in the belly of the whale. While his father and the Jonah of biblical epic were two entirely different men, we will see that there is a metaphorical similiarity between Peter and Jonah.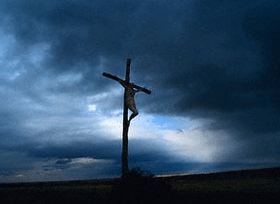 Jesus was physically crucified, bearing the bitter agony of the sins of the world upon himself. He was nailed to the cross with
three
nails, one through each hand and one through both feet...keep that in mind. He died, was sealed in the tomb, and rose again on the third day, unveiling a new hope for all humanity. While Jesus was traveling his dark path, Peter too was experiencing a crucifixion on the level of the soul, a death of his own making.
When Jesus was handed over to the authorities, Peter waited outside to hear any news of his master's fate.
Then seizing him, they led him away and took him into the house of the high priest. Peter followed at a distance. But when they had kindled a fire in the middle of the courtyard and had sat down together, Peter sat down with them. A servant girl saw him seated there in the firelight. She looked closely at him and said, "This man was with him." But he denied it. "Woman, I don't know him," he said.
-
Luke 22:54-57
Peter's heart had just been pierced by the first nail.
A little later someone else saw him and said, "You also are one of them." "Man, I am not!" Peter replied.
-
Luke 22:58
The second nail was pounded through.
About an hour later another asserted, "Certainly this fellow was with him, for he is a Galilean." Peter replied, "Man, I don't know what you're talking about!" Just as he was speaking, the rooster crowed. The Lord turned and looked straight at Peter. Then Peter remembered the word the Lord had spoken to him: "Before the rooster crows today, you will disown me three times." And he went outside and wept bitterly.
-
Luke 22:59-62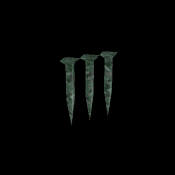 The third nail impaled his heart with such force that Peter wept aloud. He was crucified, maybe not literally but his heart knew the truth. His Lord was crucified on Golgotha with criminals, writhing in agony. Peter was on the streets with criminals, writhing from inner agony. He had disowned his master and friend in his hour of greatest need. He had lost hope, friendship, and his courage in three hammer blows. Just like Jonah, he had been swallowed by the whale that had been lurking in the depths of his soul.
Imagine the next morning and the morning after that. The crowing of roosters must have felt like salt poured into searing wounds, again reminding him of his failure and denial. He was in Hell, the outer darkness, where, as C.S. Lewis declared, being fades away into non-entity. Then came Sunday...
The tomb of Christ was empty. An angel appeared exclaiming that he had risen, just as he said he would! The disciples were amazed when Jesus manifested his presence among them. Peter, however, was still in the belly of the whale.
Peter, Thomas (called Didymus), Nathanael from Cana in Galilee, the sons of Zebedee, and two other disciples were together. "I'm going out to fish," Simon Peter told them, and they said, "We'll go with you." So they went out and got into the boat, but that night they caught nothing.
-
John 21:1-3
Nothing could erase the pain he had caused. The old fisherman would have to bear this the rest of his life. He decided to leave the fellowship and return to fishing, to go it alone in the world. He had returned to his old pursuits. Envision Peter near the bow of the boat, staring blankly toward the shore, feeling lost and alone in the morning fog.
Early in the morning, Jesus stood on the shore, but the disciples did not realize that it was Jesus. He called out to them, "Friends, haven't you any fish?" "No," they answered. He said, "Throw your net on the right side of the boat and you will find some." When they did, they were unable to haul the net in because of the large number of fish.
-
John 21:1-3
Just as Jesus had called him all those years ago, so too was he being called now.
Then the disciple whom Jesus loved said to Peter, "It is the Lord!" As soon as Simon Peter heard him say, "It is the Lord," he wrapped his outer garment around him (for he had taken it off) and jumped into the water.
-
John 21:7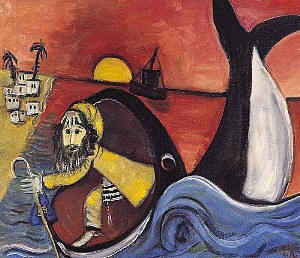 Peter's heart burned within him. He knew where his heart was and in a beautifully Forest Gump-like moment, jumps off the boat while it is still out to sea. Just as Jonah was vomited upon the beach after his time in the belly of the whale, Peter swims ashore, crawls out on the sand, and sits down to breakfast with Jesus. The three nail wounds still ache in his soul...and Jesus knows this.
When they had finished eating, Jesus said to Simon Peter, "Simon son of Jonah, do you truly love me more than these?" "Yes, Lord," he said, "you know that I love you." Jesus said, "Feed my lambs."
-
John 21:15
Jesus doesn't hesitate. Had he left the old fisherman wounded, it would have been a scourge upon the rest of his life. He removes the first nail.
Again Jesus said, "Simon son of Jonah, do you truly love me?" He answered, "Yes, Lord, you know that I love you." Jesus said, "Take care of my sheep."
-
John 21:16
The second nail is removed.
The third time he said to him, "Simon son of Jonah, do you love me?" Peter was hurt because Jesus asked him the third time, "Do you love me?" He said, "Lord, you know all things; you know that I love you." Jesus said, "Feed my sheep. I tell you the truth, when you were younger you dressed yourself and went where you wanted; but when you are old you will stretch out your hands, and someone else will dress you and lead you where you do not want to go." Jesus said this to indicate the kind of death by which Peter would glorify God. Then he said to him, "Follow me!"
-
John 21:17-19
The third and deepest nail was pulled out...it hurts. It always does, but Peter's resurrection was complete. The old man had been crucified with Christ and now only the new man remained. Jesus foreshadows Peter's own death by inverted crucifixion, but it does not matter. Peter was now truly, as Jesus had named him, the Rock. He had been through fire, death, and water. What could man do to him? He was unstopable, unbreakable.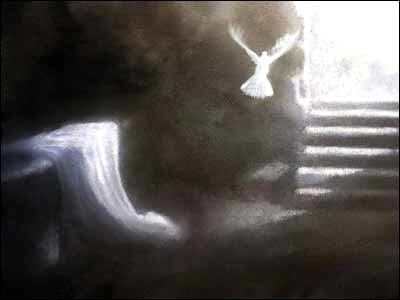 What nails need to be pulled out of your heart? What cross do you bear? Often we build up walls around our wounded parts to protect them, but the wounds do not heal. In essence, we create our own tomb. How have you created a tomb around your heart? Do you need to experience a resurrection in your life right now? Easter reminds us that there is hope in the midst of great darkness.
Labels: Bible, Christ, cross, crucifixion, Easter, Jesus, Jonah, metaphor, Peter, resurrection, whale